In the last couple of days I try to optimize some Azure environments from security and cost perspective. One customer has a SQL Server Express installed inside an Azure VM. The backup was configured for the hole VM, but there is no need to backup the Datadisk which contains the SQL databases. In this article I will explain how you can reinstall the Azure Backup Windows Workload extension to fix the issue when the service account will not listed on the Azure SQL Server VM. This fix the issue only did you not find the service account in the SQL Server management studio. To add the account in the right way, please refer to the article from Wim Matthysen.
I removed the disk from the backup and will enable the backup of the selected SQL databases, but it fails, because the Backup readiness for Instance or AlwaysOn AG status is "Not ready". I search and found out that the "NT SERVICE\AzureWLBackupPluginSvc" is not configured on the Express DB. When I try to configure the serviceaccount, the VM don't find it. In the VM extension list the "AzureBackupWindowsWorkload" extension is listed.
Reinstall AzureBackupWindowsWorkload

The only way I found to reinstall the AzureBackupWindowsWorkload is to uninstall the "AzureBackupWindowsWorkload" extension over the "Extensions + applications" blade, stop the VM for the hole VM and unregister the VM from the Recovery Service Vault.

When you done this steps, you can search via the Recovery Service vault for SQL Server inside Azure VMs select the faulty VM and select "Discover DBs". This install automatically the extension and the error will gone.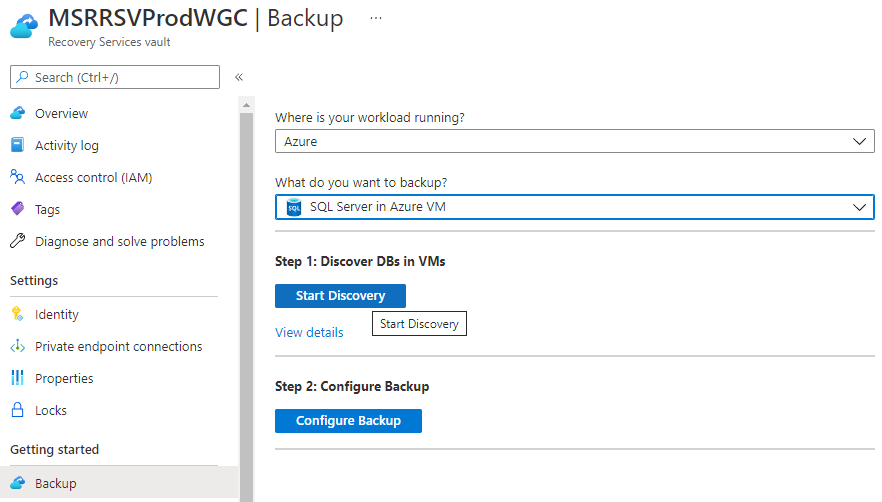 Please keep in mind that the VM must be available and started for the hole process.

When you know a easier way to reinstall the AzureBackupWindowsWorkload please leave me a comment.
Links