In the last couple of Months Microsoft brings a lot of new capabilites to Azure Files. From AD DS SMB autentication over new Tiers to Soft delete, there are many improvments for Azure Files. This article will introduce the latest announcement you need to know and which workloads are addressed with the new features.
Until now, Azure Files were divided into two Tiers – Standard and Premium. At the Ignite 2019, Microsoft announced additional Tiers in order to cover requirements more optimally. However, the integration of the new Tiers was delayed due to the challenges this year. These have been available for a few weeks now. Azure Files offers 4 different Tiers with different performance capabilities and pricing now. This Tiers are called:
Premium
Transaction optimized (formerly known as Standard)
Hot
Cool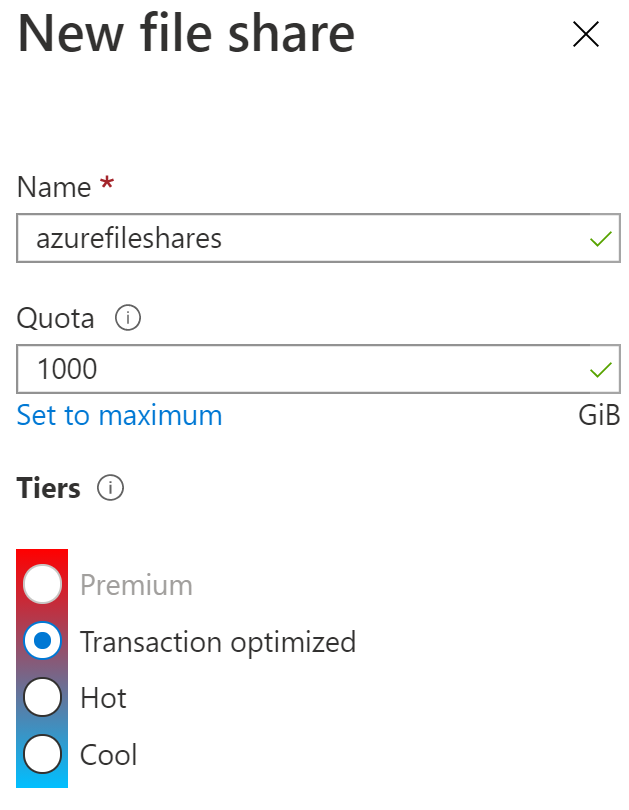 The four models make selecting and finding the right model a little more complex, but at the same time the best model for the particular workload can be found.
New Tiering models
Premium
The new Premium Tier is fully based on SSDs and provide low latency and high throughput. This is the only Tier model that based on a provisioned billing model with a fixed GiB/IOPS/throughput ratio. In difference to the other Tiers you can only select Premium Tier on creating a new Azure Fileshare and you cannot change the Tier level to a lower Tier level.
Transaction optimized (formerly Standard)
The Transaction optimized tier are formerly known as Standard tier. This tier is suitable for workloads with high Transaction, without a need for low latency or high bandwith like Premium. This tier fully based on Standard HDD level at GPv2. This Tier level enable to move to a lower Tier level on the fly. In difference to the Hot Tier model, Transaction-optimized including costs for metadata at-rest.
Hot
Hot file shares are for general purpose and perfect fit for services like Azure File Sync. This tier are also fully based on Standard HDD level at GPv2.
Cool
Cool are for small workloads and archives. This tier are possible for file shares with few access and small bandwith requirements. This tier also fully based on Standard HDD level at GPv2.
Change tiering on the fly
All file shares based on tiering model GPv2 can be switched on the fly (except premium). This means all file shares – Transaction-optimized, Hot and Cool – can changed on the fly. A Tier change for an Azure fileshare incurs transaction costs for each file in the fileshare.
Soft delete for Azure Files are now GA
Soft delete for Azure fileshares is a feature to secure fileshare from accidentally delete. With this feature every delteted fileshare will be move to a soft deleted state like a snapshot. You can configure how long the fileshare are available.
By default on all newly created Azure Fileshares after January 2021 soft delete will be enabled by default with a default retention policy of 7 days.
Pricing
The three tiering models (Transaction optimized, Hot and Cool) based on a Pay as you Go modell. Premium files available in a provisioned billing model with a fixed GiB/IOPS/throughput ratio.
The following table shows the price (based on October 2020) and the guaranteed performance based on West Europe.
| | | | | |
| --- | --- | --- | --- | --- |
| | Cool | Hot | Transaction optimized ** | Premium ** |
| Price per 1TB (LRS)* | 12.65€ | 22.85€ | 50.60€ | 161.91€ |
| Price per 1TB (ZRS)* | 16.61€ | 27.91€ | 63.25€ | 202.39€ |
| | | | | |
*except Transactions and Data Transfer
** Cost of file system metadata is included in Premium and Transaction-optimized
Notes from the field

By default all Azure Fileshare can span up to 5TB per default. The share limit can be increased to 100TB. To do this, you must activate the Large Fileshare option at the Storage Account configuration blade. This is only possible for Local- and Zone Redundant Storage.
This feature flag is not available for Premium Tiers, because the are enabled by default for the full capacity of 100TB.
Links