Summer is here and I hope many enjoy the time on vacation. In this article I would like to give a little preview on which community events you can find me in the 2nd half of 2021.
GeekSprech Podcast
I had the pleasure of visiting Eric Berg and Weimar on the 3rd weekend in July. We had a great time and talked a lot about the community, new projects and more. On Sunday, Eric and I had the idea to record a new GeekSpeak episode with the news about the Microsoft Inspire 2021. We had a lot of fun recording it and hope you do too. The podcast is in German.
German AVD UserGroup – Azure Files
Patrick Köhler and Marcel Meurer are the founder of the German Azure Virtual Desktop User Group. The host a monthly meetup with different topics around AVD. Both invited me to speak about Azure Files and is this the perfect profile store solution. I am really looking forward to the event and hope that I can give you a good overview about the different file store solutions in Azure.
Cloud Identity Summit 2021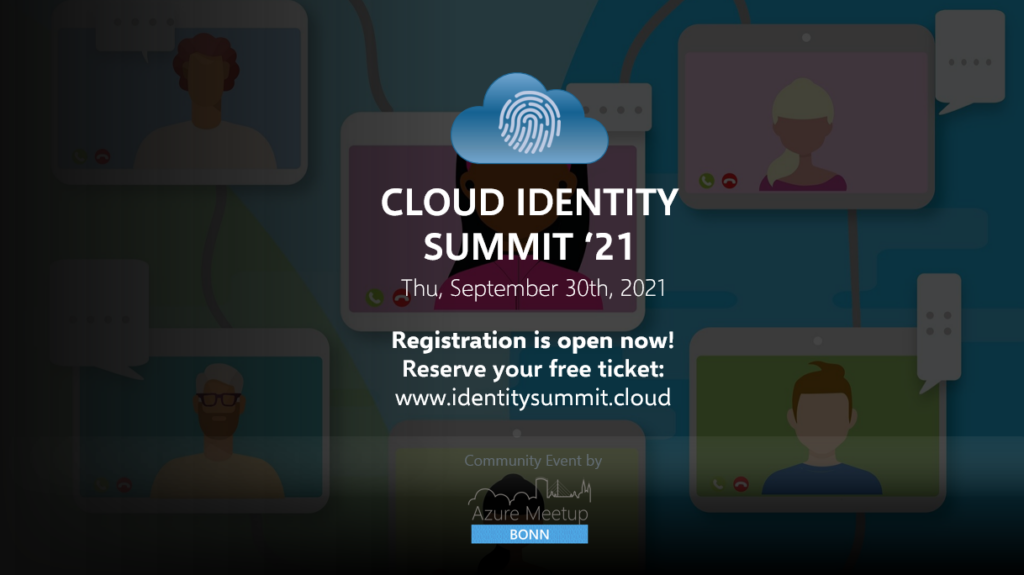 In 2020 based on the initial idea of my best buddy Thomas Naunheim we started as Azure Bonn Team the Cloud Identity Summit 2020. The speaker lineup was awesome and the feedback was so great that we decided to repeat this in 2021. This year the Cloud Identity Summit will another virtual conference and take place at 30/09/2021. We hope you attend our 2nd edition. The agenda and the speaker will announce in August 2021.
CloudInspires Podcast
Thomas and I founded in June our own CloudInspires.me Podcast. Do not miss the latest two episodes (in German). We have so many great speaker on our timeline – stay tuned 🙂
AVD TechFest Fall 2021
I am very happy to speak for a 2nd time at the well organized AVD Techfest. This a free online conference with all topics related to Azure Virtual Desktop. There are so many sessions on the agenda, it's worth taking a look if you work in the AVD space. I'll be giving a session on Azure Files as an AVD profile storage solution, and diving into the different ways you can use the Azure Files solution for AVD. This means that I will introduce Azure Files and Azure NetApp Files and show in which scenarios some of these options are the better solution.
IT Tage Konferenz
One of the last conferences this year is the German IT Tage Konferenz in December. This is a really big conference running about 4 days with a wide range of topics. I had a pleasure to hold a session about Azure VM Best Practices.
I will add additional events, when I know about.