The Microsoft Ignite 2020 has moved to a free, virtual conference with a lots of online sessions about the Microsoft Product world like Azure, Microsoft 365 and more. As every year Microsoft announced new services and new features for existing services. In this blog post I will report about my highlights of the last 48 hours of Microsoft Ignite.
First of all, I'm a little sad because this was to be my first Microsoft Ignite I was able to attend in person. However, I'm glad that Microsoft offers this conference as a virtual version and gives us the opportunity to participate for free and get in contact with the product owners.
Satya Nadella opened the MS Ignite with his Keynote about Challenging Times, Producivity and Modern Work and how Microsoft services can help in every section with different services.
My focus area is Azure, you know it 🙂 And there were a lot of new announcements before and during the Ignite.
This article will be updated after the MS Ignite ends.
Azure Automanage (Public Preview)
A really new announcement during Satyas Keynote was Azure Automanage. Azure Automanage is a new service for Windows Server Azure VMs to significantly reduce daily management tasks. Azure Automanage automatically configures each best practice service to its recommended settings for each Azure VM they is Onboarded. Azure Automanage are in public preview right now and free of charge.
Added the link to the session later.
Azure Resource Mover (Public Preview)
Moving Azure Resources between Regions are challenging. In many cases the customer has to make additional steps to move, for example, a VM to another region. With the Azure Resource Mover there is a new service available to made this steps easier then before. Azure Resource Mover can move different Azure services between different region. It has a easy GUI and checks, after selecting resources to move, for depencies and show stoper. In my upcoming projects it is really helpful for many customers to move ressources between West Europe and West Germany Central.
Added the link to the session later.
Azure Arc (GA)
Azure Arc is one of my favorite service from the last year and one of the big announcement of MS Ignite 2019. This year Microsoft announced the General Availability of Azure Arc (only for Servers). This means the service is leaving the public preview phase will get an SLA and you have to pay for the service now. The good message the service will be free of charged for ressource management over Azure. Cost can be occur when using the Azure Guest Policy for Servers they are exist outside of Azure. When we take a look at the new features are coming to Azure Arc during the year, I missing some features in the VM space, like a better integration of Azure In-Guest Policy and some more. Container and Dataservices are integrated in the last couple of months and for this the service stay in Public Preview.
Backup Center (Public preview)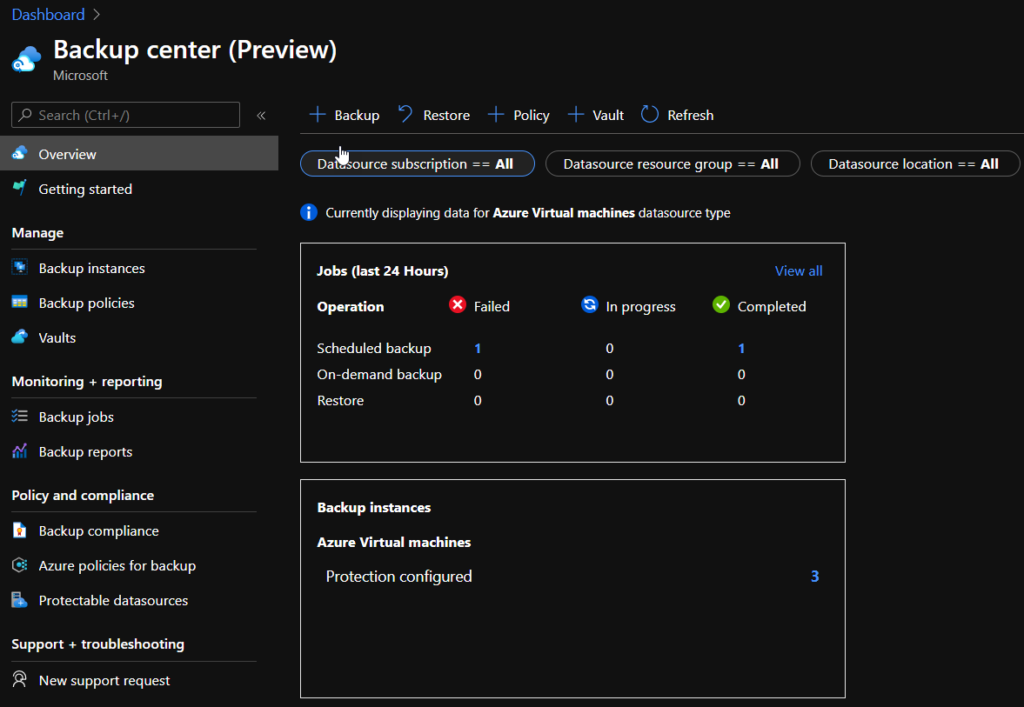 The Backup center is a new service and gives the customers the ability to manage different backup vaults across subscription or tenants over one central blade. From my perspective this is a big announcement especially in the IaaS space. There are many customer out there managing different Backup vaults for different workloads in different subscriptions. With Backup center you can bring this Backup vaults together over subscription or, with Azure lighthouse integration, over Tenant boundaries into one single pane of glass.
Added the link to the session later.
Windows Admin Center inside the Azure Portal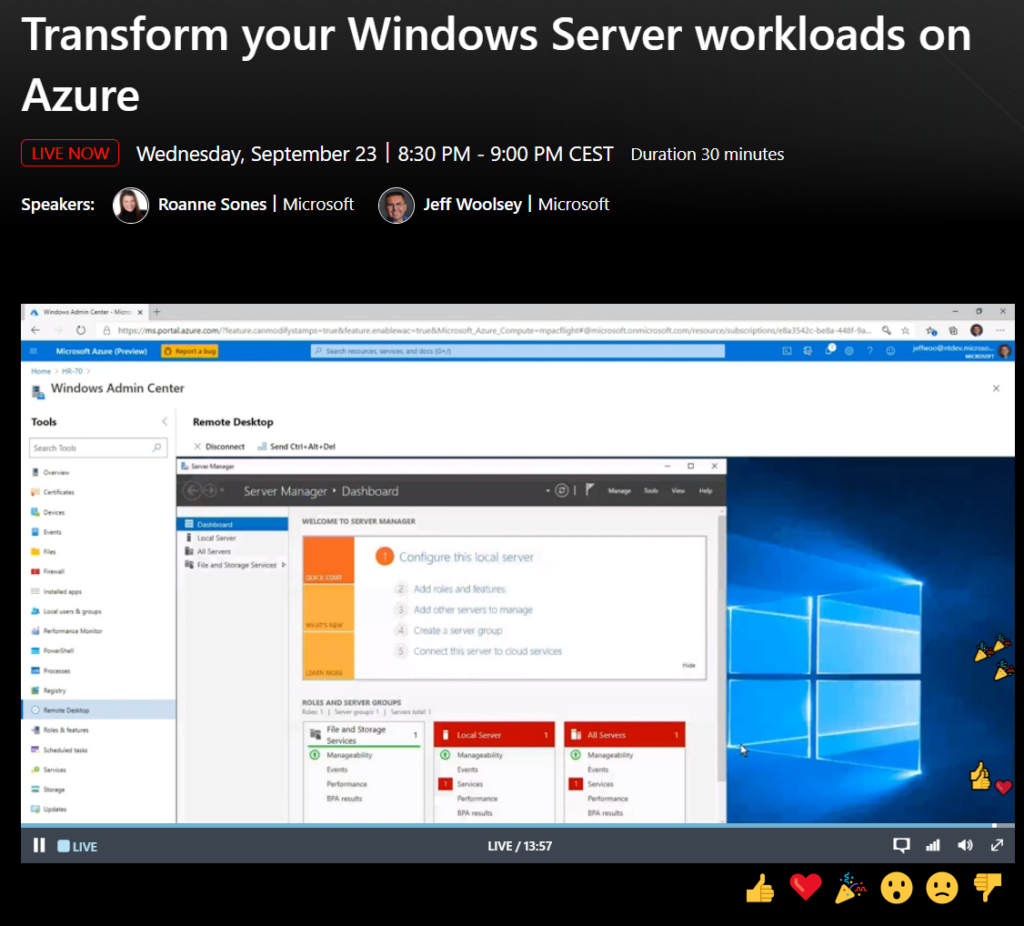 In the Transform your Windows Server workloads on Azure was a cool announcement. It shows Windows Server Admin Center as a Service inside the Azure Portal. This is a helpful feature, to use WAC from within Azure, without the need for Server or installation. According to the session it should be available soon.
Azure Files
SMB multichannel for Azure Files
Some days before MS Ignite starts, Microsoft released a really good update with SMB Multichannel support for Azure Files. This is a helpful improvement to get more bandwith between Endpoints and Azure Fileshares. (Link will follow)
Container
Coming soon.
WVD Updates
Some new features are announced in the WVD space. Microsoft Endpoint Manager now supports Windows 10 Multisession.
MS Azure Recap at our Azure Bonn Meetup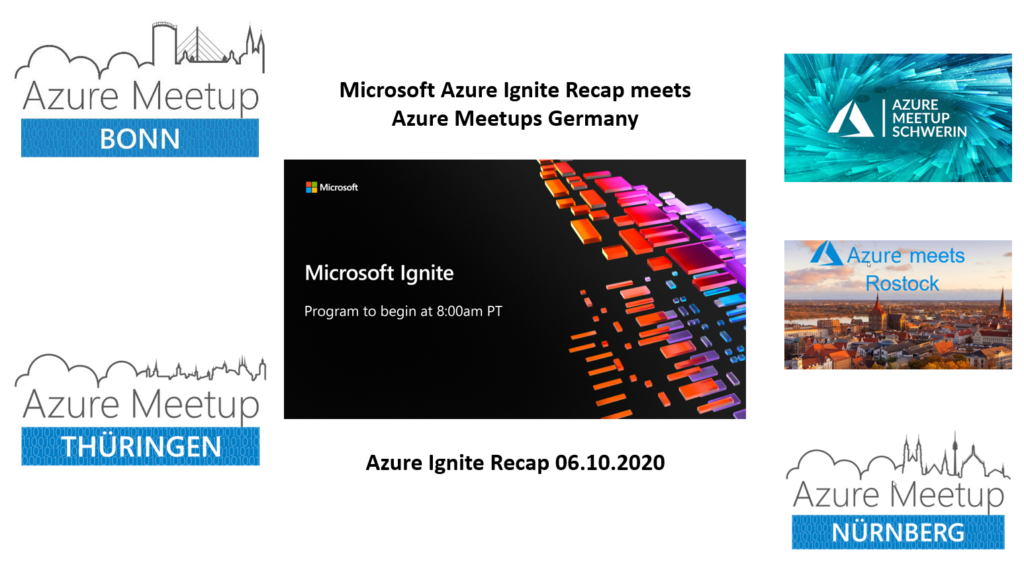 Don't miss our Microsoft Ignite Recap, where we will present the major announcements of Microsoft Ignite in four separate sections (Identity. Infrastructure, Container, Security). Each area will be introduced by a Microsoft MVP with excellent knowledge in that area. This will be a corporate meetup with lots of friends from the local Azure Germany meetup groups.
Links